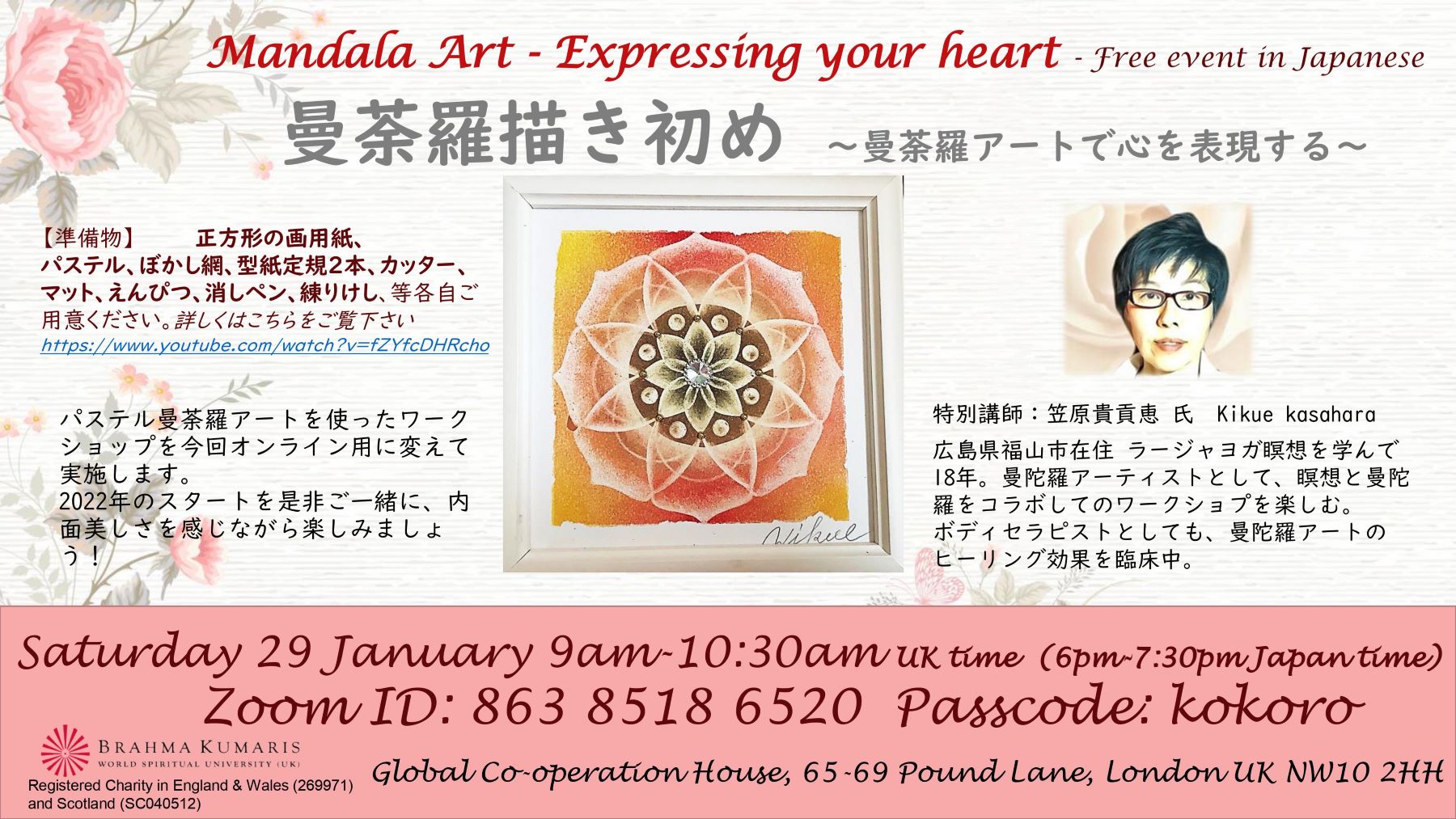 パステル曼荼羅アートを使った ワークショップを今回オンライ ン用に変えて実施します。 2022年のスタートを是非ご一緒 に、内面美しさを感じながら楽 しみましょう!
〇 特別講師:笠原貴貢恵 氏 (Kikue Kasahara) 広島県福山市在住 ラージャヨガ瞑想を学んで 18年。曼陀羅アーティストとして、瞑想と曼陀 羅をコラボしてのワークショプを楽しむ。 ボディセラピストとしても、曼陀羅アートの ヒーリング効果を臨床中。
〇 準備物: 正方形の画用紙、 パステル、ぼかし網、型紙定規2本、 カッター、マット、えんぴつ、消しペン、 練りけし、等各自ご用意ください。 詳しくは準備物ビデオをご覧下さい。
〇 準備物ビデオ:https://www.youtube.com/watch?v=fZYfcDHRcho
〇 参加費無料・どなたでも参加できます
Let's enjoy the start of 2022 together while recognising your inner beauty by using Pastel Mandala Art for online use!
- Facilitator: Kikue Kasahara (Mandara Artist / Body therapist / Raja Yoga practitioner)
- Preparations: Please bring your own square drawing paper, pastel, blur net, two paper pattern rulers, cutter, mat, pencil, eraser pen, kneading, etc. Please take a look at this preparation video for more information
- Preparation video: https://www.youtube.com/watch?v=fZYfcDHRcho
- Free of Charge, Anyone can join!
Meeting ID: 863 8518 6520
Passcode: kokoro
Date(s)
There are currently no planned dates.