Colourful and vibrant are words we use to describe people whose energy brightens our day. However, when we forget our true selves and get stuck in negativity it's as if we've turned down the brightness level on our soul, and we get stuck in a black, white and grey world. Since colours are frequencies, what does it feel like to be living the full spectrum of our true selves?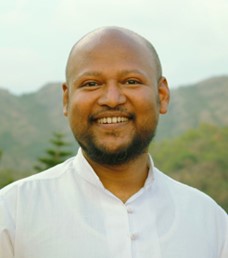 Speaker: Shantanu Mandal
is a graduate in Fashion Design from the prestigious National Institute of Fashion Technology in Kolkata, India and also holds a bachelor's degree in Fine Arts. Shantanu is passionate about values and how they can be lived and applied in the fields of education, well-being, youth and the environment. In 2019, Shantanu was one of seven youths to be funded by the United Nations Framework Convention on Climate Change (UNFCCC) to attend COP 25 in Madrid. Since then he has been representing the Brahma Kumaris Youth at a number of high profile environmental conferences. Shantanu is currently living and volunteering for the national coordinating office of the Brahma Kumaris in London.
Date(s)
There are currently no planned dates.